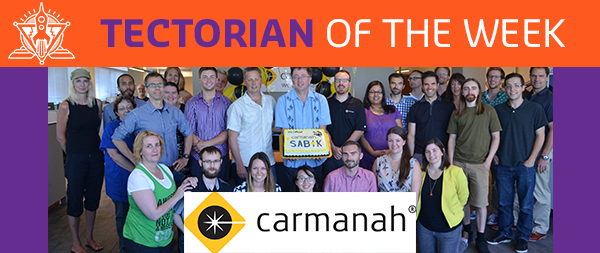 Dave Green, local serial entrepreneur, was sailing the seas in 1996 and enjoying his favourite hobby, when he kept having the same dilemma… he was repeatedly draining his sail boat's battery by leaving the masthead light on. His internal light bulb turned on and he got the idea to create a solar self-contained LED light (inclusive of battery, light and power source) which could be used by mariners.
Carmanah Technologies was born.
CAPTAINS OF THEIR INDUSTRY
Still existing nearly 20 years later, Carmanah has established an industry-leading portfolio of rugged, reliable and marine lighting products, and is an established and trusted supplier to Coast Guards, marine authorities, navies and ports around the globe (110 countries in total)…  and they're based right here in beautiful Victoria, BC.
Specifically, they design, develop and distribute energy efficient LED solutions for infrastructure including: signalling systems for the marine aids to navigation, airfield ground lighting, offshore wind marking, aviation obstruction and traffic markets.
ADDING TO THEIR FLEET
Most recently, Carmanah completed the acquisition of the Sabik Group of Companies. Sabik had been a strong partner to the marine aids to navigation division since 2010, and they are happy to welcome them aboard the Carmanah team.
"The acquisition of the Sabik Group of Companies is an important step towards our goal of being the worldwide leader in the marine aids to navigation industry" said John Simmons, Carmanah CEO. "The acquisition also catapults Carmanah into a new market – the safety marking of offshore wind installations – which is a fast growing market."
This acquisition combined with a portfolio that includes the brands "Sol" and "Go Power!", means they now have offices in Toronto, Florida, Finland, Germany, Singapore, Russia and the United Kingdom.
THE DECK CREW
With an impressive global reputation like Carmanah's, it makes you wonder what's happening behind the scenes to keep the team creative and fueled with positivity.
"Carmanah is a fantastic place to work," commented Alison Keller, Carmanah's Business Development & Communications Coordinator. "The culture is open and inclusive; we have monthly town halls where strategy and financials are discussed, and all staff members have the opportunity to ask the CEO and division managers anything!"
In addition to this, they have an active social committee that organizes pancake breakfasts, BBQS and even the occasional games day or sporting event.
"Because of our socially and environmentally engaged workforce our office has been waste free since 2005 and we participate in many local charity initiatives [such as] the VIATEC Food Bank Challenge and five hole for food hockey tournament. The Carmanah team is kept happy and healthy by weekly deliveries of fresh fruit, bike facilities, fitness incentives and lots of free coffee and tea."
Last year Carmanah raised $8,658.70 (plus food donations) for the local Mustard Seed Foundation through the VIATEC Food Bank Challenge.
"Overall it was an awesome experience for us here at Carmanah," commented Keller. "At the time of the event we had three co-op students from Gustavson School of Business. This dedicated team, plus our social committee, took charge and organized many company wide events [including] raffles, bake sales, a cake decorating contest, and perhaps even a little peer pressure. We were happy with our results, and are coming back even stronger in 2015."
ON THEIR RADAR
Carmanah is looking forward to celebrating their 20th anniversary next year (follow them on Twitter to stay tuned on the event), but they're more excited to be a part of a market which is primed for growth.
"The efficiency of LEDs is expected to improve by 50% over the next 5 years, meaning that we will be able to provide higher performance products that require much less power," explained Keller. "Our development team continues to integrate Smart Technology (monitoring and connectivity) into our products, thus reducing the maintenance needs and increasing the safety and reliability of our products in the field."
The path ahead looks clear and bright for Carmanah Technologies and Tectoria couldn't be more proud.
Keep doing what you're doing!