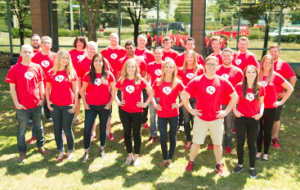 Our Tectorian of the Week is: RingPartner!
RingPartner was one of the first companies to sign up for the VIATEC Food Bank Challenge, in support of the Mustard Seed Food Bank. Last year, their founder, Todd Dunlop, shaved his head in support of the cause… so it's no surprise they're kicking things off on day 1 of the challenge!
Today from 3pm to 6pm they're hosting an Open House and Silent Auction at 775 Topaz Ave. You can bid on items such as gift certificates from Salt & Pepper Fox, Healthy Beet Nutrition (Consultation), She She Bags (Matt & Nat!), Lighthouse Beer and more. All proceeds go towards the VIATEC Food Bank Challenge. Swing by if you can! if you'd like more info on the challenge or want to donate online, click here.
---
About RingPartner:
RingPartner was founded in 2013 by a couple of digital marketing veterans. Smartphones changed the landscape of direct marketing and the team at RingPartner recognized that there was a better way to instantly connect consumers with the products and services that they wanted.
Instead of filling out an online form or flipping through their local phone book for business info, a consumer could simply click on a phone number directly from their mobile phone to connect to a business.
RingPartner makes it easier than ever to harness the power of a simple phone call to grow your business. Because RingPartner operates on a Pay Per Call basis, clients only ever pay for calls delivered to them in real-time.
In 2015 RingPartner was selected for the Google Patent Starter Program, and was awarded two patents. As part of this program, RingPartner also joined the LOT Network, which helps protect companies large and small from patent trolls.
Real calls and real consumers, in real time. That's the power of Pay Per Call. www.ringpartner.com