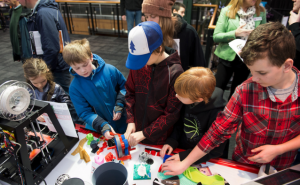 Our Tectorians of the Week are: Every Mini Tectorian that came to Discover Tectoria last week!
On February 19th, the Crystal Garden was flooded with job seekers, investors, students and thousands of bright-eyed, awe-struck kids. The Island's biggest tech expo landed on a tri-city Pro-D Day this year which allowed kids and their parents to spend a full day learning and interacting with Greater Victoria's #1 Sector – Technology.
Science Venture conducted science experiments and tech gadget demos which had everyone fully entertained. The Video Game Lounge was also a hit as kids got a glimpse into what a coding job can look like, and how they can work right here in Victoria.
We hope this event made an impact on every youth member that made their way through Crystal Garden, and that our tech community can continue to shed a light and inspire our future generation.
Every media outlet in the City captured Discover Tectoria. Have a look, a read and a listen below!