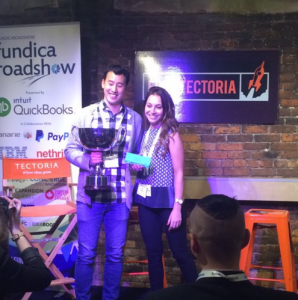 Our Tectorian of the Week is: Change Heroes!
Change Heroes made an impression at the Victoria stop of the 2016 Fundica Roadshow, winning the audience vote AND the judge's selection for the grand prize! As a result of a very strong pitch in front of a panel of VCs, Angels, banks and government organizations, Change Heroes wins roundtrip airfare to pitch to investors in the valley, 3 months office space in San Francisco, plus cloud and accounting packages to help their business.
Change Heroes is the leader in peer-to-peer fundraising, and now they're helping as many fundraisers as possible to visit the site of their impact, to meet locals, to build the house, to walk the halls of the schools. With the help of their video-first fundraising technology platform, their charity partners raise four to five times their typical amount while building a strong millennial donor base.
Congratulations to Change Heroes! Learn more about them here.