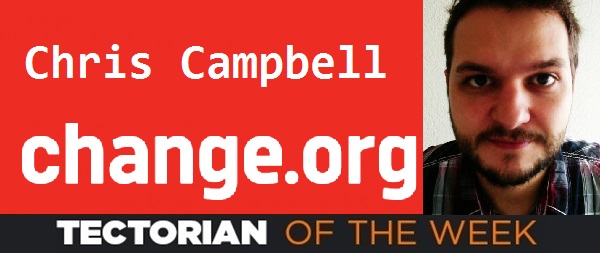 Our Tectorian of the Week is Chris Campbell.
Why Chris? It's because we think he represents the latent technical talent, creativity, spirit, hard work and dedication to building community that makes Tectoria what it is.
First, a bit of Chris Campbell's backstory:
Chris Campbell is a Mercurial Communications alumnus that worked in Victoria on a high-profile web browser project that eventually transformed into Flock, the world's first social browser. As senior software engineer with that project, Campbell moved with Flock to San Francisco (and being sure to stay firmly connected with his home town) when the highly sought-after Victoria team was recruited by Zynga.
Zynga, a game company, needed the know-how of this skilled Victoria software team to build the complicated backend tools that powered its business.
Over the course of time, a couple of the Victoria peeps who worked at Zynga in San Francisco got jobs at Change.org.
One thing led to another, and five Zynga employees in Victoria plus one in San Francisco (who was moving back to Canada) accepted offers to start on just this past August.
There were six Change.org local employees when the Victoria office opened, and the since then three more Victoria employees.
And, true to form for a Victoria tech company, a UVic student will be starting a co-op term in January.
So that's the backstory.
But the long and short of it is that Chris Campbell proves that Tectorians have wicked chops when it comes to designing and building software or just about any other technical product. Chris competes (and works with) the best in the business. And on the planet.
On top of that, Chris is a true Tectorian because he remains connected to and supports his home, Victoria. Chris could live anywhere, really, but he always chooses to come back to Tectoria.
He is able to put his amazing skills and mad passion to use by putting Victoria on the map. So we can nurture and attract more Chris Campbells and more Tectorians.