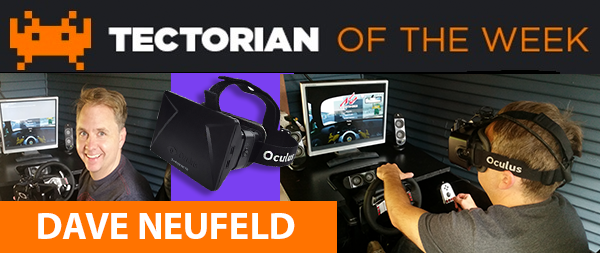 In 2013, Brendan Iribe introduced Oculus Rift to the world via kickstarter, made virtual reality a reality and in 2014 it was purchased by Facebook for $2 billion.
This past week Microsoft announced that the Xbox One will support Xbox 360 game streaming to Windows 10… and the Oculus Rift.
But what does this all have to do with Dave Neufeld?
Dave, along with local developer Carson Book and the support of VIATEC, hosted their first Virtual Reality (VR) Meetup at Fort Tectoria on March 2nd. VR meetups are popular in Vancouver and Dave saw a gap here in Victoria.
"Since that meetup, the conversations and projects have begun to blossom. We are completing UI/UX experiments and hacking together hardware to build interesting experiments," commented Dave. "I had a chance to try the Oculus at a friend's house a few months back and I was blown away. I immediately purchased my own (and a laptop with enough graphics power to drive it) and started experimenting."
Dave was inspired to build a Virtual Racing Car platform to help demonstrate what it's like to use the Oculus Rift with Car Racing Software. It's off to a great start and it will be available for demos next month. Or, as soon as Dave is done playing with it.
Dave is a software engineer (B.Sc. Comp. Sci. From the University Of Calgary), who has been fortunate enough to have worked with a lot of innovative companies.  When he's not working as a Software Development Manager or Quality Assurance Lead, he's building projects like this in his home workshop.
"Victoria is a fantastic city (I spent most of my life in Calgary, just for context). The weather is amazing and the local tech community is great. Having a chance to use the Fort Tectoria space during my last parental leave has been a real blessing."
The next VR Meetup is in the works and details will be announced in the fall. The hope is to meet every 8 weeks and build the VR community.
"Life is short. If you have an idea that you want to try, or a technology you want to play with, give it a go. And, if you have the chance, give back to others by sharing your knowledge and skills. Oh, and have fun."
If you are interested in joining the local Oculus Rift/ VR community, contact  oculus@daveneufeld.com