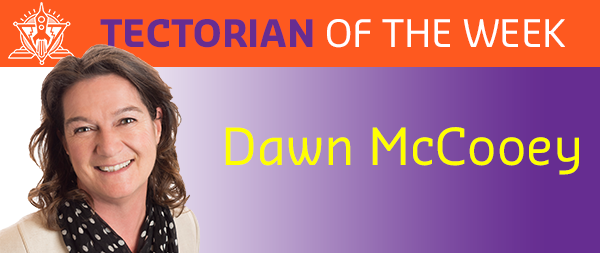 Dawn McCooey is the Skills Development Manager for the Women's Enterprise Centre (WEC), a BC based not for profit providing loans, training, mentoring and business advising to women entrepreneurs throughout the province.
She's well known for her hard work, extensive travelling, bright smile, and the best baked goods you've ever tasted.
But there are a few other facts about Dawn many may not know…
Dawn was the

very first student

to enroll at Royal Roads University, where she eventually earned a Masters in Leadership and Training

For the first two weeks of university, she decided to ROW to school and back on an Alden rowing shell
Her love for the ocean is obvious, having once run a yacht chartering business with her husband and the fact that she's an experienced offshore sailor!

At the culmination of her HR career she wrote a book called "Keeping good employees on board"
Dawn used to own a career consulting company with 32 staff in 3 offices before joining WEC in 2005

She's won the impressive "Best boss in Victoria" award.
McCooey and WEC moved their office to VIATEC's headquarters at Douglas and Hillside in 2012 and are now located in VIATEC's new Fort Tectoria building at 777 Fort Street. "We are proud to support the tech community and want to encourage and provide support to women entrepreneurs in this important and growing sector," commented McCooey.
The WEC has been increasing its profile for some time now, including the recent completion of Phase 1 for the "catalyst for growth" regional consultations.
In this project, they are taking the results and the energy of last October's successful BC Economic Forum, "Women as a catalyst for growth," and are developing recommendations from four regions of the province.
"This is a project that is action-oriented and community based," explained McCooey. "The outcomes will positively impact business growth for women entrepreneurs, increase numbers of women on boards and in senior leadership, increase number of women in trades, STEM and emerging sectors."
On September 8th McCooey is baking some more cookies, this time for the Women Entrepreneur Focus Group at Fort Tectoria.
The goal is to provide insight into a study of women, entrepreneurship and risk.
It's conducted by Clare Beckton, Carleton University's Centre for Women in Politics and Public Leadership executive director, and Janice McDonald of the Beacon Agency.
"Input in this focus group could add a unique perspective and contribute to the dialogue about female entrepreneurship."
McCooey is a very strong advocate for women entrepreneurs and the tech community is honoured to have her making a difference every day. Smooth sailing, Dawn!