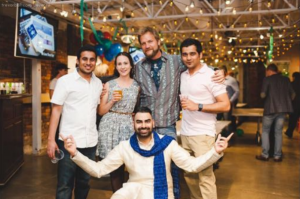 FreshWorks Studio has been slowly and steadily defining their niche in the Victoria startup ecosystem. Samarth, Mod and Rohit Boolchandani founded FreshWorks to bring cross platform mobile and web application development with their keen sense of UX/UI design to the budding entrepreneurs.
With their recent contracts to build apps for the City of Victoria, Chatterblock and the Vancouver International Wine Festival… it's no wonder why FreshWorks Studio is our Tectorian of the Week!
April 29 was the official launch party to announce their arrival in the highly competitive mobile arena. Their hard work and pursuit for excellence has been well received in the Victoria community which is evident from the rave reviews on Clutch from the past customers and the positive interactions with their current customers.
Victoria's tech community is a small tight community where word of mouth trumps any paid advertisements. Their perseverance, dedication and passion for their craft is unmatched. For them, it goes without saying that it would not have been possible without the support from the community in terms of mentorship, expertise and opportunity.
Congratulations to FreshWorks Studio on their recent success! We just know it's a matter of time before they're among the impressive VIATEC Awards Finalists in years to come!