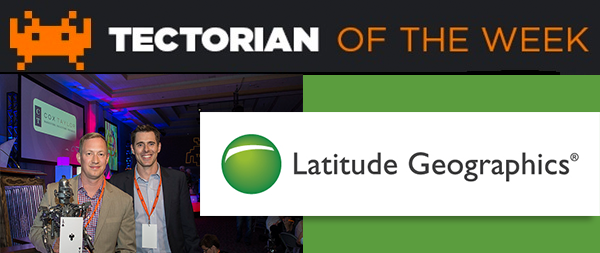 In the last year they've hit four significant milestones:
Reaching the 1,000 customers mark
Hiring their 100th employee
Winning Technology Company of the Year at the VIATEC Awards last month
And being the Tectorian of the Week!
Latitude Geographics makes software to help people make better decisions about the world around them (no big deal). "Whether it's responding to an oil spill, figuring out rain water rebates available to citizens, or tracking polar bears in the Arctic, we provide technology to get information in the hands of people," commented Steven Myhill-Jones, CEO of Latitude Geographics.
Their team had a booth at the Esri User Conference in San Diego last week where they participated in Geocortex events and where they hosted an annual BBQ for over 400 people! Canadian politeness at its finest!
Just two days ago they unveiled Geocortex Insight, the long-anticipated successor to Geocortex Optimizer and they just opened registration for their Advanced Workflows: Foundation Course being held August 4-5.
Looks like Latitude Geographics will be continuing to make their mark on the Tectoria map this year! Let's just hope they continue to hold BBQs and meetings on their rooftop deck overlooking the inner harbour 🙂