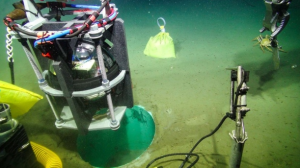 Our Tectorian of the Week is: Ocean Networks Canada!
In an article posted by CBC yesterday, Ocean Networks Canada announced they have successfully placed the first offshore early warning earthquake sensor along the seabed off Vancouver Island!
The network will eventually include eight sensors offshore, along with many more sensors on land on Vancouver Island. Once completed, the sensors will provide up to 90 seconds of warning when the big one strikes.
The expedition to attach sensors to the seabed involved nearly 150 people, three ships and three remotely operated vehicles.
This is so past impressive, we've labelled it as ROCKETSAUCE! Congratulations to our amazing group of local scientists at the University of Victoria for helping so many of us!
Click here to read the full article.