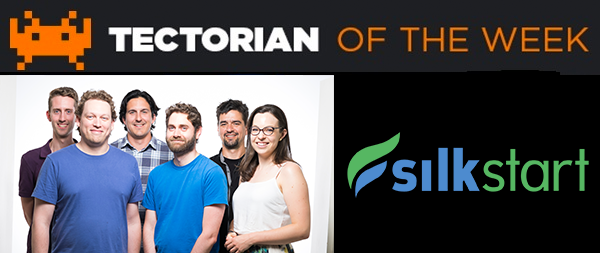 Silkstart helps member-based associations manage their web presence, events, members, job board and calendars by creating modern, affordable and custom platforms.
They've been very busy since forming in 2011. Shaun Jamieson, CEO of Silkstart, made the (smart) move to Victoria in the Spring of 2014 and the company consisted of just him. Silkstart now has 7 employees, another office in Toronto and they've quickly found their groove. Just last month they were finalists at the 2015 VIATEC Awards for Emerging Technology Company of the Year!
With their brand new shared office space at 838 Fort Street, they're right where they need to be.
"We take inspiration from being a part of the Victoria startup community; whether it's helping startups in VIATEC's accelerator program, participating in Ladies Learning Code, WhiskyDev, or PyVic, or just networking at a Tectoria Social Club or Startup Meetup," commented Jamieson.
You may have also seen Silkstart in the news in early July. They announced a seed round they raised earlier in the year for $550k that included HIGHLINE and a group of US and Canadian angel investors (Including Victoria's Thomas Ahn of Mad Ventures, John Hopper of Torrent Investments and Boris Wertz of Version One Ventures (formerly based in Victoria and now located in Vancouver).
On the product side, they've modified their platform to support multi-chapter associations, something unique in the market, and they are starting to onboard their first large customers.
They're also about to launch a Job Board, something many of their customers are excited to use right away, including VIATEC.
The team of Silkstart have been working on a brand new site for VIATEC and the Job Board feature is being customized for their needs. VIATEC's current Job Board has high traffic and is something Members and Non-Members use daily to post jobs and apply for them. This was the perfect project for Silkstart to launch the Job Board. This large project is scheduled to wrap mid August.
"We work hard, have fun and really try to make a difference," commented Jamieson. We all have a mutual goal of wanting to learn, develop and also to work somewhere we enjoy coming to. There's a lot of mutual respect within the team and while we don't always agree on everything, we know that's a good thing and helps make us better as a company."
When the Silkstart team needs to take a break, you'll find them away from computer screens and playing board games.