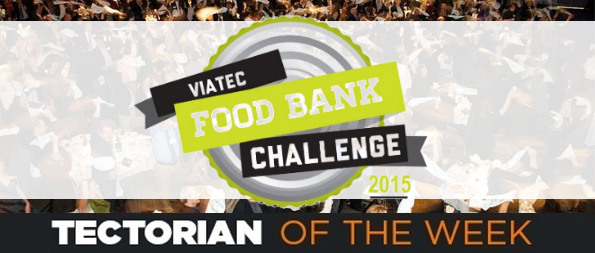 Our Tectorian of the Week is the entire Tectoria community. Why?
Because, as the 2015 VIATeC Food Bank Challenge results demonstrate, we can all work together to as a true community to make a difference.
2015 VIATeC Food Bank Challenge Results
The results of this year's Food Bank Challenge are pretty awesome:
In just the month of February, 2015 Food Bank Challenge participants successfully raised $47,135.76 in cash.
The kicker: with the Mustard Seed's purchasing power this cash amount essentially doubles!
On top of the cash, 2015 VIATeC Food Bank participants also brought in 1790 pounds of food worth an estimated $4,500!
More numbers:
During the 13 years the VIATEC Food Bank Challenge has now been running, total food and cash valued at $1,734,964.98 has been donated from Greater Victoria companies!
Everything goes towards helping hungry families who have to rely on the Mustard Seed and other food banks to put food on the table.
The Mustard Seed has said that spring is a challenging time of year to receive donations, so these donations are especially helpful.
Who Were the 2015 Food Bank Challenge Winners?
There were some insanely close races in both of the two categories.
In fact, participants were able to triple donations in the final week, which just shows how hard our community battled for supremacy.
There were two categories in the Food Bank Challenge:
Greatest Overall Contributor (ie, points amassed to the whole company)
Greatest Per Employee Contributor
And here are the top 3 for each category:
Greatest Overall Contributor
Greatest per Employee Contributor
Congratulations to the winners! It's all about making a difference to families in need in Victoria, and helping build, maintain, and strengthen community bonds.
A true community effort
And the 2015 VIATeC Food Bank Challenge was a true community effort. This year's success would not have been possible without the contributions of all 2015 VIATEC Food Bank Challenge Participants:
Drilling down, we'd like to give one last shoutout to our leaders in the cash and food donation categories:
Greatest Cash Contributors in 2015
RevenueWire
Carmanah
Schneider Electric
Greatest Food Weight Contributors in 2015
HP Advanced Solutions
Schneider Electric
Unit 4
Getting ready for next year…
We're looking to use this year's success as a springboard for even greater achievement next year.  If you and your company are interested in taking the challenge next time – express your early interest now by contacting Devan McCannel: dmccannel@viatec.ca!