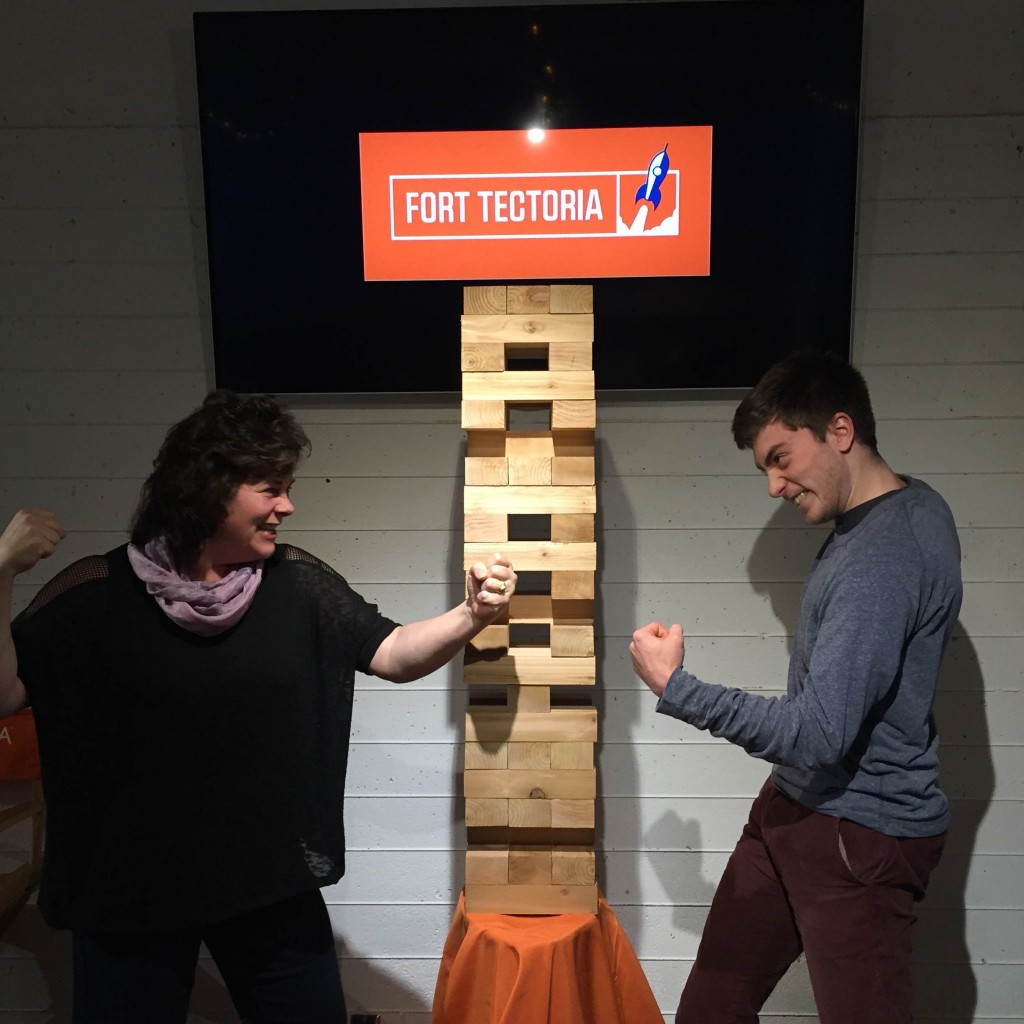 How are your Jenga skills?
If you think you're so hot then why not enter our Giant Jenga Tournament on Friday, January 16 at Fort Tectoria (it's part of our VIATeC Member's Only New Year's Party) and win a trip for two to Vancouver? The tournament entry fee of five dollars will be donated to the Mustard Seed Food Bank.
Go to a Canucks hockey game on Flight Centre Victoria.
The grand prize of the tournament? One package for two people that includes:
Flight
Hotel
Two tickets to a Canucks game (of your choice)
But you'll have to hurry – there are only a few tickets left for the VIATeC New Year's Party.

The Grand Prize is sponsored Flight Centre Victoria:
Note: this party is for VIATeC members only.
How to win?
At the VIATeC Member New Year's Party on January 16 we're hosting a giant Jenga tournment.
It's a King's Court system; five dollar entry fee for every team. Teams can be one or two people (maximum). Every penny of every entry fee will go to the Mustard Seed Food Bank.
Registration is first-come, first-serve.
Registration at the front door to get into the party (only a few tickets left). If you want to enter the Jenga tournament that will be a separate registration inside.
There will be four separate Jenga stations.
The first person to arrive will be the king of that particular Jenga court. The next people arriving (who have paid five dollars) can challenge the king of that tower.
Matches will be four minutes, timed.
The first person to knock the tower over loses. If the tower has not fallen, we will be keeping track of each team's time using a chess timer. The team who has used the least amount of time after the four minutes wins.
The winner advances for free (they stay at the court), and the loser is eliminated. We will keep track of every team's wins.
If you want to play again you can pay $5.
If you want to play again you can pay $5, get in line, and challenge another team (you can challenge any four of the stations). If you lose, pay another $5 to play.
The tournament will continue for one hour. The team that has the most wins at each station will enter a playoff using the same rules.
The two winning teams of this second round will play together in a championship match with no time limit.
The team that wins this final championship match wins the Vancouver package.