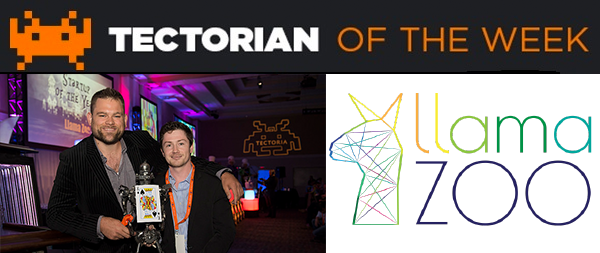 LlamaZOO Interactive is NOT a local zoo where you can ride Llamas. Just wanted to get that out of the way.
LlamaZOO Interactive is a local startup that just won the prestigious Startup of the Year Award at the VIATEC Awards last month.
Their product (currently code named "EasyAnatomy"), is a 3D app designed to help veterinary students learn animal anatomy and become better veterinarians. They do this by working with Universities in an effort to create the most relevant content and course material and use data from medical scans including MRI and CT to create the 3D models.
These models are then bundled with written content, course material and quizzes to allow students to explore the full animal anatomy at their leisure.
In fact, founders Charles Lavigne and Kevin Oke, are currently on the road to Oregon State University.
"The veterinary department has invited us to pitch, demo, and discuss EasyAnatomy," commented Lavigne. "The goal is for the department head to make a purchasing decision to buy licenses for all of their first year students. We're also treating this meeting as a customer discovery opportunity. [We're] trying to glean insights on the pain and challenges the individual anatomy professors are experiencing."
After Oregon they're next pit stop is Washington State University in Pullman where they've been asked to present their software at the American Association of Veterinary Anatomist Conference. "It's a great opportunity for us to get in front of and meet with the leading anatomist in North America."
Charles Lavigne started in the games industry by studying 3D animation and design, and later Game Design at the Vancouver Film School. He has 10 years of experience designing games and player experiences for companies including Electronic Arts, Ubisoft Montreal and Microsoft and consulting for smaller studios, startups and indie developers.
Kevin Oke has 9 years of experience. Most recently he worked as a design, production and business strategy consultant with Fox, Nickelodeon, Arnold Worldwide, The Chernin Group and many small startups on over 30 projects. Prior to consulting, Kevin worked at Electronic Arts, Ubisoft and Next Level Games.
Together they have been dominating since 2014 with an idea that came from Kevin's girlfriend practicing to be a veterinarian and identifying a lack of useful apps to help her study.
"As two recent transplants from Vancouver we're blown away by this city and the local industry's spirit," commented Lavigne. "Most everyone is friendly, welcoming, and willing to help in one way or another. Plus there's tons of good beer, food to eat, and activities to do year round, when one can find the time!"
You can find LlamaZOO's office at Fort Tectoria or contact them by emailing hello@llamazoo.com. They're currently seeking investors!