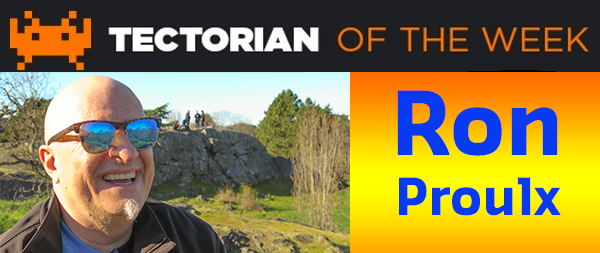 We're not quite sure what to call Ron Proulx, but "Renaissance Man" seems quite fitting.
Ron is a recent import from Toronto and contacted VIATEC to introduce himself with the most creative (and elaborate) bio they had ever seen:
"I'm from Toronto
I drove across the country in 2014 thinking I'd buy a place in Vancouver;
I decided I like Vic better.
I like the weather in Vic, because I used to live in Venice Beach, California.
I took possession of a condo on 6/1/15; every day is an adventure, with a killer view.
I own a music supervision company in film/tv.
I manage several TV composers.
I co-own a rights clearance company.
I had a digital company that got into podcasting; too early i might add lol.
I own a patch of trees in the BC Interior; the deer love me.
I have written 2 ebooks that I sell online; one has done well, the other not so much.
I'm entrepreneurial and/or a bon vivant lol.
I'm looking for the next adventure(s); passive or active.
I play poker once in a while; I raise with A9 suited.
I play piano and sing; good for the soul.
I am a big walker; see Vic for why that is good.
I had a record deal in another life; I also had purple hair, and now I have none.
I believe the arts are important; as is free speech.
I live for my iPhone and Apple products; and/or ability to be mobile/everywhere.
I was once addicted to Sudoku; I have that under control now.
I have made some short films.
I was in the middle of producing a feature length documentary for 2 years – shoot/edit/wrangle/produce/chief bottle washer… all until I pulled the plug due to my subject being "unavailable"… long story.
My axes = Canon5DMII + FCPX.
I am not looking for a job lol."
Oh, and he won a Genie Award once…
Due to having a bit more freedom with his business, Arpix Media, (thanks to his amazing employees), Ron decided to move to Victoria, a city he feels is up and coming and more sustainable than Toronto or Vancouver.
He's hoping to be proved right. And, who knows what opportunities will fall into his lap while he's here.
"Being curious about any and all things is inspirational," commented Proulx. "I love not knowing how to do something. It's great fun to be on the learning curve, far more than once things start to get easy… that starts to get a little hamster wheel for me. I'm not big on hamster wheels."
Proulx is also a public speaker with experience as a panelist and moderator. Topics have mostly been about music licensing, but occasionally regarding one of the ebooks he wrote (hownot2suck@businessnbeing), which is a primer for young people entering the workforce. His other ebook is called "How to license your music into movies and television".
With his stay so far, Proulx has noticed that "people in Victoria sure like their beer!"
"I mean, people like beer everywhere, but if you really want to have a spirited conversation in Vic, I've found that discussing beer totally works!"
Yup, we're definitely proud of our microbreweries. In fact, there's now an official map with 25,000 copies placed in tourist traffic areas and at each location!
While Proulx still has a lot to discover in Victoria, he definitely has the same feeling we all have: That "an explosion is about to happen in Victoria due to its technology, distance working and mobility all smashing into a great climate and property values."
"I thought I'd get here now, rather than later with the others."
Cheers and welcome, Ron!