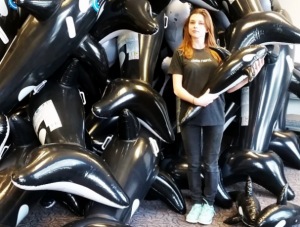 Our Tectorian of the Week is: Eve Olynyk!
Eve has been VIATEC's Engagement Concierge as a part of her UVic BCom co-op for the past 4 months.
In this short amount of time, she has made VIATEC's Accelerator Programs run incredibly smooth by giving the Executive in Residences (EiRs) and the Program Director very helpful insight, and gotten to know our local tech stars who help make tech the #1 sector in Victoria.
In addition to mastering the Accelerator Program, Eve has helped VIATEC with monthly networking events and the 2016 VIATEC Technology Awards.
Finally, in her "spare time" she even built a new site for the Accelerator Program!
To really grasp a "week-in-the-life-of", give Eve's blog a read. VIATEC sure kept her on her toes!
Eve is on her way to Portugal for a 6 month exchange and we wish her all the best. Who knows what talents she'll come back with as she has already:
Come bid her farewell at tonight's Member Appreciation Night and meet the three co-op students auditioning to take her spot!
Oh, and ask her about this photo…