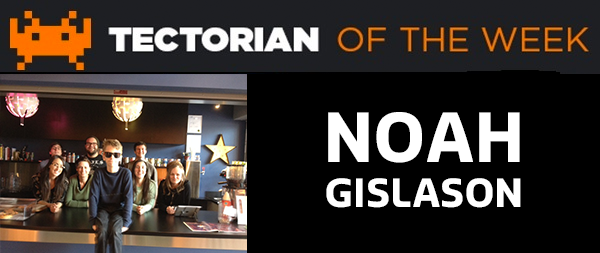 Well this is a first on the Tectoria blog… A Tectorian who hasn't graduated high school yet?!
Noah Gislason is 13 years old, attends Maria Montessori Academy and he just wrapped up a week-long internship with the team at VIATEC, so we thought we'd give him the spotlight!
Noah enjoys swimming, reading, writing and his favourite subject is Literature and English.
"You get to read interesting books and write about whatever you want, as long as it's the correct format; like an essay on the best invention or a second person debate speech," commented Noah.
Noah's school is unique in that every grade eight student needs to complete an internship around communities or a business hub in Greater Victoria. The school motto is "Education for Life" so they encourage their students to experience essential life skills to prepare them for life beyond school.
"I selected VIATEC as my ideal internship option because it was an interesting, progressive non-profit tech association," explained Noah. "I thought they would be perfect for my interests and getting to see all the new and growing tech companies."
Noah impressed the team with his knowledge of Excel by organizing files for the Fiscal Year and he bounced around Fort Tectoria pitching in wherever he could. He assisted the Facilities Manager, worked at the Ground Control Café, helped with event summarization, and completed inventory on the room full of VIATEC swag. During his experience at Ground Control Cafe, customers and staff quickly noticed his large vocabulary and knew he was a bright kid.
"What I really like about Victoria is that it is a strong, robust economy with varied job options in tech, business, and researching all in one city," commented Noah. "When the older generations start leaving the workplace right around the time my generation will be entering the workplace, there will be even more job options… Minus a bit of the competition found among the millennial's."
When asked what Noah wants to be when he grows up…
"I have some more grounded ideas like being a doctor, lawyer, researcher or somewhere like VIATEC, but then I also have crazy ideas like solving crimes from a desk over at INTERPOL."
What ever his path, we're confident Noah Gislason has a bright future ahead of him and he may just end up being your boss one day.
Like hearing about awesome people like Noah?
Sign-up for the "This Week in Tectoria" newsletter!