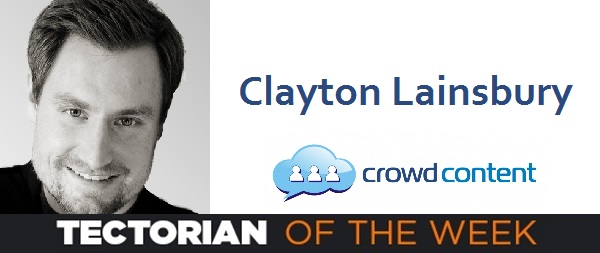 Clayton Lainsbury, founder and CEO of Victoria's Crowd Content, is our Tectorian of the Week.
After making the move with us to Fort Tectoria this past fall, VIATeC Accelerator program participant Crowd Content has grown so much they need new digs. The startup company has just moved out from Fort Tectoria, but we're not too sad – Clayton and his expanding team have found new digs just across the street.
Clayton and his team at Crowd Content make it easier for businesses to easily work with top writers in order to create higher quality, more engaging content to help them sell online.
There are so many successful tech companies in Victoria that it's often difficult to remember that success is no sure thing. Each and every one of the technology companies that directly employ 15,000 people in Victoria started out as an idea. And it took a lot of hard work, perseverance, smarts and teamwork to achieve success.
A Royal Roads grad, Clayton joined the Accelerator program in 2012. He's one of a number of talented, visionary Neverblue alumni that are helping Victoria gain recognition as a hub for e-commerce and web marketing. Thanks to people like Clayton, Victoria has become well-known name in the marketing community everywhere from New York to Boulder to San Francisco.
Clayton has grown his startup to ten employees, with plans to hire more – Crowd Content is currently looking for developers and account managers.
It takes drive, commitment and leadership skills to build a successful technology company in Victoria, which is why Clayton Lainsbury is our Tectorian of the Week.