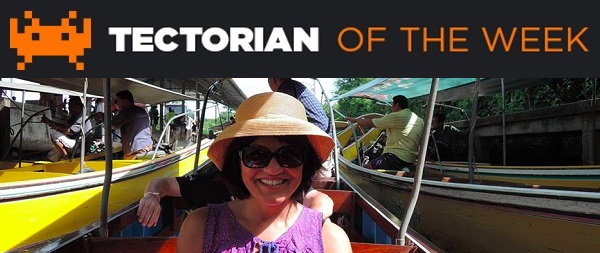 Mary Chiappetta, a District Learning Coach at School District 61 and tireless champion working to help more even more teams across Victoria participate in the VIATeC Food Bank Challenge is our Tectorian of the Week.
This year is the first year the VIATeC Food Bank Challenge has been opened to the wider Greater Victoria community. The 2015 VIATeC Food Bank Challenge ends on February 27th, and it is turning out to be yet another great year thanks to the contributions of dedicated community members like Mary Chiappetta.
Mary Chiappetta is one of our community members responsible for its success this year.
Mary doesn't work at a tech company. Instead, she works as a learning coach with Greater Victoria School District.
She championed introducing the VIATeC Food Bank Challenge to the community by introducing the event to her Learning Initiatives team at School District 61.
Mary didn't stop there.
She has continued to rally the other employees who work at School District 61 to contribute to the challenge.  Making inroads into the Victoria comunity was a key objective of this year's VIATeC Food Bank Challenges.
Champions like Mary are essential to help the Food Bank Challenge to spread further into the Tectoria community from year to year.
Mary is indeed a true Tectorian in other ways, too.
In her role as a District Learning Coach with Learning Initiatives, Mary provides professional development opportunities for teachers all across the Greater Victoria School District #61.  Mary and the other members of the Learning Initiatives Team (let's give a shout-out to Petra and Jessica!) aim to provide teachers with insights about the latest teaching methods to help students learn.
Effective teaching is the cornerstone of the Tectoria knowledge economy.
If we want to continue to build an economy based on innovation, we need innovative, creative students willing to explore new technology.
Teachers need to be able to understand and effectively wield new technologies, and then use these new tools in the classroom. The Learning Initiatives team helps teachers not only learn about new innovative tools and technology, but they also implement them immediately with their students.
In short, it's all part of helping Victoria students be better prepared to participate in the global community, and become future Tectorians themselves.