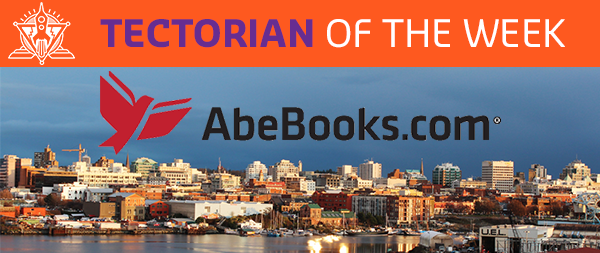 By 8am their office is alive with conference calls to their colleagues in Dusseldorf, Germany, and by the end of the day you'll hear the cheerful sounds of ping-pong and foosball. AbeBooks was purchased by Amazon in 2008, and other than their team and their reach growing bigger, they've maintained their local feel and great office culture.
You may have seen their name multiple times on VIATEC's Job Board recently with 7 different job openings.
"Hiring the best is very important to us," commented Alicia Pagnan, HR Business Partner at AbeBooks. "We are always looking for exceptional people to join our team, including super software developers, customer support champions, UX design gurus, dedicated technical and product managers, and motivated marketers. Every employee makes a difference with our empowered style of work."
AbeBooks is an online marketplace for books. Millions of brand new books, used books, rare books, and out-of-print books are offered for sale through the AbeBooks websites from thousands of booksellers around the world.
"Readers can find bestsellers, collectors can find rare books, students can find new and used textbooks, and treasure hunters can find long-lost books. We connect buyers and sellers via our network of websites."
They're known for having an office environment that has great views and is fun, challenging, passionate and sometimes loud.
"A lot of people attend the gym at lunchtime and we have social events on a regular basis," commented Pagnan. "It's a friendly office where we try to ensure staff meet people outside of their teams."
Although flexible working is a part of their culture, they still trust their staff to get the job done. They also encourage communication, so if you have something to say, you can take it right to senior staff at various meetings or even over the lunch table.
The AbeBooks team can be divided into: Engineers, Operations, Customer Service, Marketing and Finance. They range from interns to staff over 60, they have about 100 people in the Victoria office and another 40 in Germany.
To be the perfect AbeBooks employee… "You've got to be smart. You are going to be challenged by some bright people so that means producing very high caliber work," explained Pagnan. "You have to be prepared to keep improving your work after absorbing all the feedback. We also like people who put the customer first and are willing to help their colleagues. A sense of humour goes a long way here too."
AbeBooks is a past VIATEC Food Bank Challenge participant and plans on competing again November 9 – December 4.
"Our experience was very positive. We asked departments to compete against each other in terms of donations and that's always a recipe for success with so many competitive people here."
AbeBooks tends to always have a major project or two they're working on, but they keep the details close to their chest and wouldn't tell us a thing. We even bribed them with candy.
What they could tell us was that their quest to improve their business for buyers and sellers never ends. E-commerce is always developing, and one of the few constants is change.
"We love the fact that we can work for an e-commerce pioneer while living in this beautiful city," beamed Pagnan. "We love the fact that many of us can walk or cycle to work (via Galloping Goose), that there's a collaborative tech community, and that work/life balance is really important here."