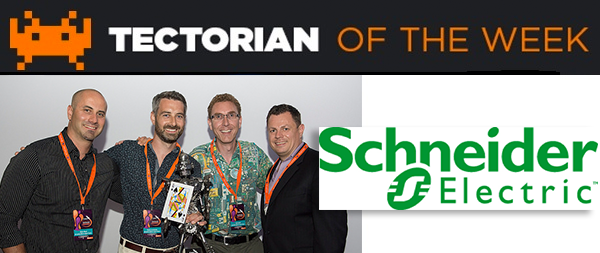 Schneider Electric started out with a focus on steel in the 19th century and switched gears to electrical distribution and automation in the 20th. They now specialize in manufacturing, hardware and software R&D, and they are one of the largest technology companies in Greater Victoria.
A small fraction of the very large Schneider Electric team accepted the award for Innovative Excellence at the VIATEC Technology Awards Show on June 26th. Project Manager, David Anderson accepted on behalf of his team for their innovative power quality meter. It was designed to help businesses understand where they are using their power and how to use it more efficiently, and it's been VERY well received.
"Here in Victoria we have power metering design and manufacturing, all under one roof, and this allows us to optimize the project design life cycle and deliver our product in a timely manner," commented Anderson. "Our future is going to be exciting because we are uniquely positioned to help customers solve their energy efficiency issues and also provide world-class leading products."
In addition to this award, they have also earned the following in 2015 alone:
World's most admired companies in 2015 (Fortune Magazine)
World's Most Attractive Employers in 2015 (Universum)
Hervé Coureil, CIO of Schneider Electric, Finalist for the 2015 CIO Leadership Award (MIT Sloan CIO Symposium)
On top of their innovative achievements, they continue to have a strong presence in our community. In particular, they are top contributors in the VIATEC Food Bank Challenge for the Mustard Seed year after year, and in 2013 they won first place.
We are very excited to see what this powerhouse team achieves next!
Click below to view the Schneider Electric's video interview for Innovative Excellence, alongside their tough competition!