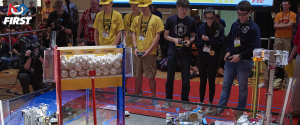 Our Tectorian of the Week is: FIRST Robotics!
FIRST Robotics engages kids in kindergarten through high school in exciting, mentor-based, research and robotics programs that help them become science and technology leaders, as well as well-rounded contributors to society.
They are hosting an information session tomorrow (Saturday) from 1pm to 3pm about FIRST Robotics and how a school might go about putting together a team for FIRST Tech Challenge (FTC).
FTC high school teams design, build and program robots to compete in an alliance format against other teams!