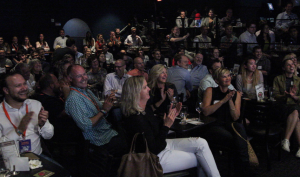 Our Tectorian of the Week is: All of Tectoria!
Tectoria was on display at its finest from September 15-17 as 37 investors flew in from all over North America, and even Norway! Investors, public and media heard the latest news from local tech companies at the Launch & Learn and saw their products in action at Demo Camp. Investors even got one-on-one time with local entrepreneurs and dove into details during a private "Pitch 'N Putt the Harbour" event.
In addition to this, over 200 people gathered at Yuk Yuk's Comedy Club for the largest FuckUp Night gathering yet, and there was unlimited networking on rooftops, on the water, in the sky and even at the Rifflandia Music Festival.
LINKS
Watch the recap video below!
A huge thanks to the following local tech companies that participated:
And another huge thanks to our Local Hosts and of course, the following Sponsors & Supporters: