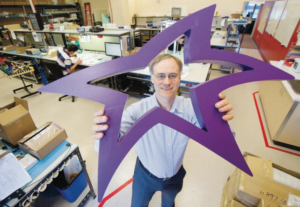 Our Tectorian of the Week is: StarFish Medical!
This Victoria medical-device maker made news this week of their acquisition of the Toronto-based medical-device designer, Kangaroo Group.
StarFish Medical has been around for 17 years and provides design, development, and manufacturing outsourcing services. StarFish partners with innovative companies to create and manufacture breakthrough products for a full range of medical specialty areas including: Cardiovascular, Digital Health, IVD, Ophthalmology, Optics, Technology Commercialization, and Ultrasound.
This new acquisition establishes StarFish Medical as a national medical-device developer, adds 25 employees to their 100 in Victoria, and also puts them on the radar of medical-technology companies that have clustered in the US (Boston and Minneapolis).
It's no wonder a strong group like StarFish Medical won Team of the Year at the 2016 VIATEC Technology Awards!
We're thrilled to hear the news, way to go StarFish team!